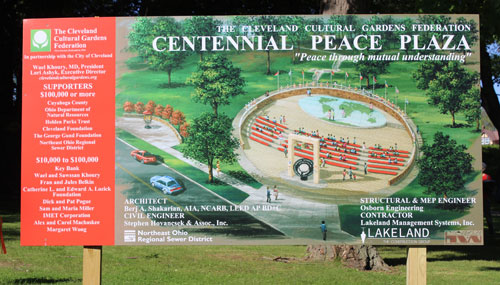 The Cleveland Cultural Gardens Federation held a groundbreaking ceremony for a new Centennial Peace Plaza in the Cleveland Cultural Gardens on Tuesday June 11, 2019.
CCGF President Dr. Wael Khoury told of the historic significance of the Gardens and the new Plaza. He recognized the Plaza committee, board members, delegates and donors.
Committee members Paul Burik, Berj Shakarian and Sheila Murphy Crawford spoke as did Lori Ashyk and supporters University Circle President Chris Ronayne, Councilman Kevin Conwell, Cleveland Foundation Program Director Nelson Beckford, NEORSD Specialist Crystal Davis and Cleveland Mayor Frank Jackson.
They and others gathered for the ceremonial groundbreaking.
The band No Strangers Here provided entertainment and guests enjoyed a variety of ethnic foods.
See photos and videos of the Centennial Plaza Groundbreaking Ceremony