Address:
Martin Luther King Jr Dr, Cleveland, OH 44106 (Just north of Chester)
Dedication Date:
1985
Sponsoring Organization:
Confucius Institute of Cleveland
---
History & Design: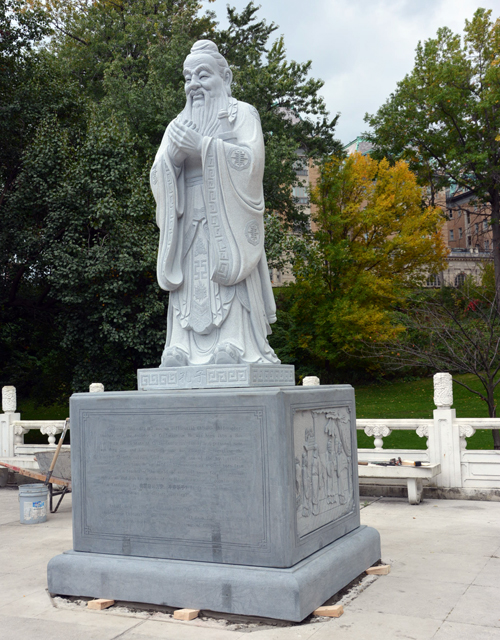 Established in 1985, the Chinese Cultural Garden was a gift of the city of Tapei and its business community and was modeled after the Chinese Imperial Palace. A plaque acknowledging the gift says: "On behalf of the people of Taipei We present this Chinese Cultural Garden to the people of Cleveland as a confirmation of friends and cultural exchange between our sister cities."
The Chinese Cultural Garden embodies the complexities of Chinese history in the 20th century. After its civil war ended in 1949, China was split between the People's Republic of China (which control's mainland China) and the Republic of China (which controls Taiwan and several surrounding islands.)
Geographically distant from the main chain of Cultural Gardens, the Chinese Garden is notable for the contrast of its stark white marble against a lush green background. Two Chinese dragons guard the entrance with a statue of Confucius (a teacher, philosopher and political theorist, 551-479 BC) atop a white pedestal.
(courtesy of the Cleveland Historical team at Cleveland State University).